What is the long-term outlook for Asia's two behemoths?
When considering China and India, in recent decades China has been the more attractive economic prospect. The country's nominal GDP of USD 18 trillion is roughly six times that of India. China has historically had a larger population. And in the previous decade, China's real GDP growth outpaced India's by over 1.5 percentage points annually.
However, the tables are set to be at least partly turned in the coming years. According to IMF data, China's population is now in decline. By the end of our forecast horizon in 2027, China will have lost 8 million people; In contrast, India will have gained over 75 million and stolen China's crown as the world's most populous country. Moreover, India's real GDP growth will be over 2 percentage points higher than China's every year over our forecast horizon.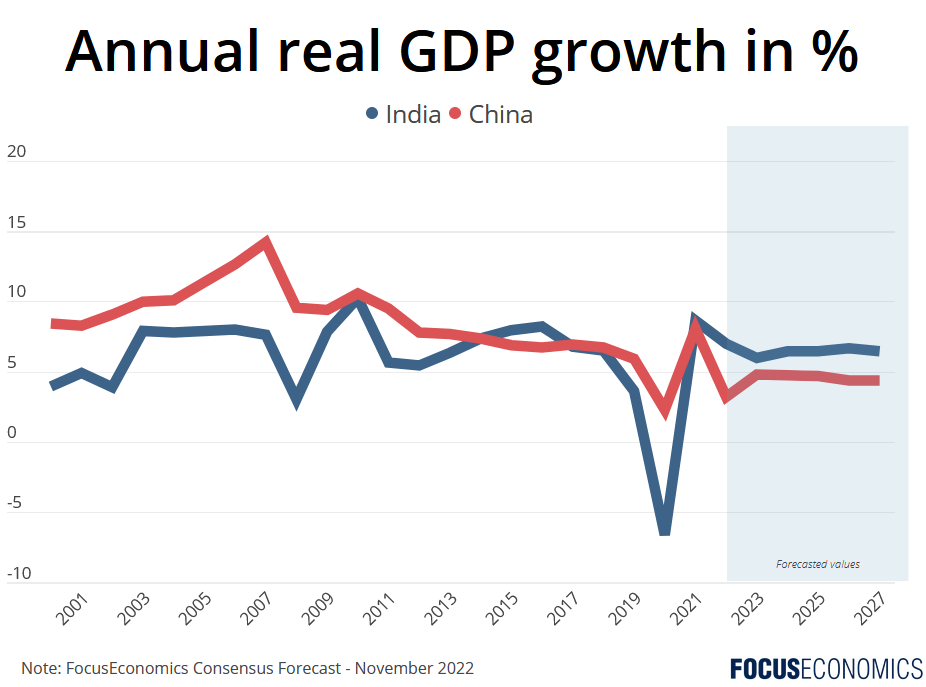 So, what is behind India's superior GDP projections? More favorable demographics are one important factor: While China's population will shrink and age, India's is relatively youthful and growing briskly. Moreover, India's far lower income per capita means there is more potential for catch-up growth than in middle-income China. Thirdly, China's increasingly hegemonic state-owned firms will likely dampen the dynamism of the private sector in the coming years. Finally, China's growing international isolation—as a result of U.S. sanctions, frictions with the West and border restrictions—is already leading firms to diversify supply chains away from the country, a trend which is likely to continue ahead. India is set to pick up some manufacturing business that moves away from China; Apple recently began production of the iPhone 14 from India, for instance.
India's economic 'sorpasso' should be put in context: Even by 2027, its economy will still be around five times smaller than China's. Moreover, India's dilapidated infrastructure, thick red tape and poor educational standards mean it is unlikely to usurp China as the world's factory any time soon. That said, an at-least partial economic convergence between the two powers is on the cards in the coming years.
Insights from our analyst network:
On China's medium-term outlook, analysts at the EIU said:
"We expect real GDP growth to accelerate to 4.7% in 2023, from 3.3% in 2022. However, this forecast assumes an easing of zero-covid policies in mid-2023, suggesting significant downside risks to these assumptions. […] Growth will remain on a decelerating trend over the medium to long term. Rapid demographic ageing will be a primary factor. Technological change will drive productivity growth, but the self-sufficiency drive will generate economic inefficiencies. Increasing reliance on the state sector to drive economic activity will also worsen the competitive and discriminatory pressures facing some private and foreign firms."
Regarding India's export outlook, DBS' Radhika Rao said:
"Shifts in the global trade environment provide opportunities for India to widen its export footprint. While the short-term trend will be beholden to global demand cycles, an emerging better mix of product lines, including electronics, drugs and pharma, speciality chemicals etc., compared to a more traditional basket (gems and jewellery, textiles, plastics, wood, and products etc.) is expected to lend some extent of resilience to the export trend in the medium term. This set against the backdrop of a reorientation towards a […] China + 1 Strategy (success story on certain Apple manufacturing processes), clean energy (solar modules etc.) and groundwork on free trade agreements, bode well for the external sector."