The U.S. dollar has been on a tear against the euro this year, appreciating by around 15%. Currently, the two currencies are trading close to parity for the first time since the early 2000s. The Fed's relatively more aggressive tightening cycle, safe-haven dollar demand and concerns over the European economy due to energy shortages have been key drivers.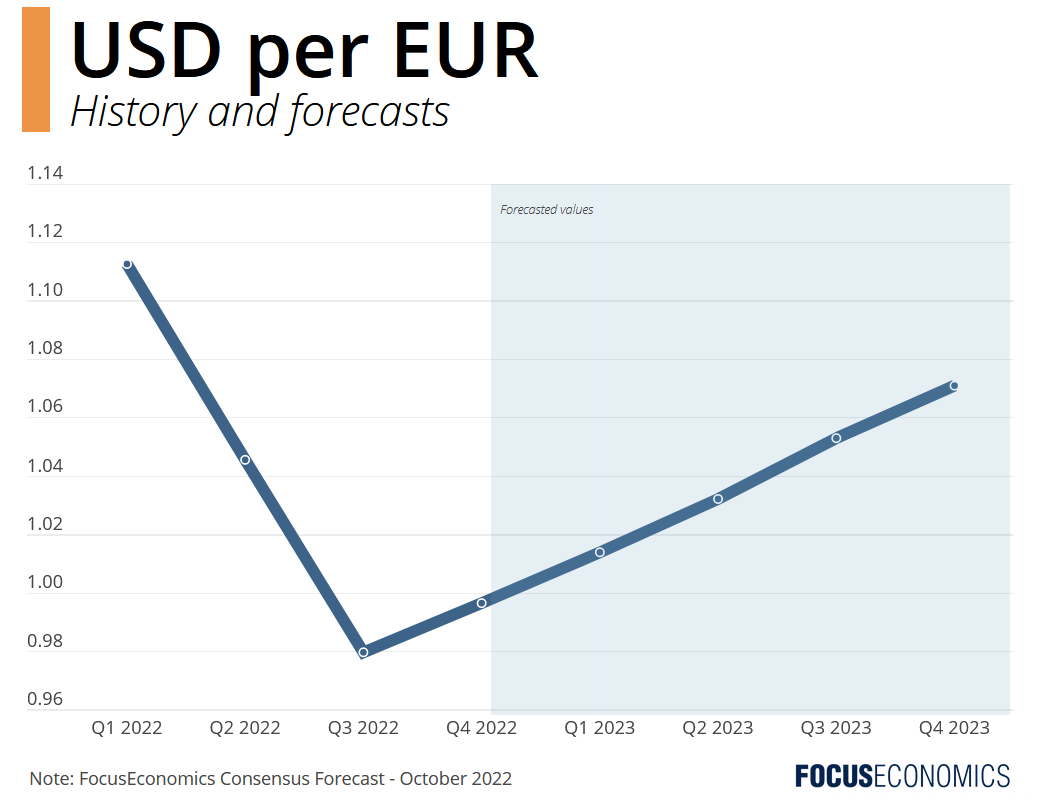 Our analysts forecast that Q3 2022 marked the quarter of peak dollar strength. Going forward, they see the euro recouping some lost ground, as the European Central Bank steps up its interest rate hikes and the bloc diversifies its energy sources away from Russian gas. That said, risks to these forecasts are likely to the downside (implying a weaker euro than currently expected). On 6 October the EU approved an eighth sanctions package against Russia, which could spark Russian retaliation and further weigh on economic activity. The war in Ukraine could escalate and spill over into neighboring countries. Moreover, as a result of the energy crunch, European inflation is seen outpacing that of the U.S. over the next year, which could dampen the currency.
Even at the end of our forecast horizon in 2026, the euro is only seen recovering to USD 1.16 per EUR, below the average of 1.21 observed during the 2010s, and far weaker than the rates of over USD 1.50 per EUR achieved during the late 2000s. Relatively higher long-term interest rates and better economic prospects will favor the dollar. The euro may have already endured the period of maximum pain. But the heady days of the past are not likely to return.
Insight from Our Analyst Network
On the near-term outlook for the euro, analysts at UniCredit said:
"A return back to and above parity remains a story for 2023, in our view. The Fed 's re-orienting its strategy to focus on US economic growth rather than inflation and thus starting an easing cycle in 4Q23, as we still expect, remains the main trigger for a definitive turnaround in market sentiment against the USD, much more than unilateral or coordinated intervention. As we expect the ECB to also end tightening in 1Q23 (and at a projected 2.25%, our new peak), upside potential above parity for EUR-USD will likely remain limited and confined to the 1.05 area."
Regarding the longer-term outlook, the EIU said:
"Since mid-2021 the US dollar has been appreciating strongly against a basket of major currencies […]. However, it will begin to depreciate gradually against the euro in 202326 as safe-haven demand recedes, Europe's economic outlook stabilises somewhat and the interest-rate differential with the European Central Bank narrows."