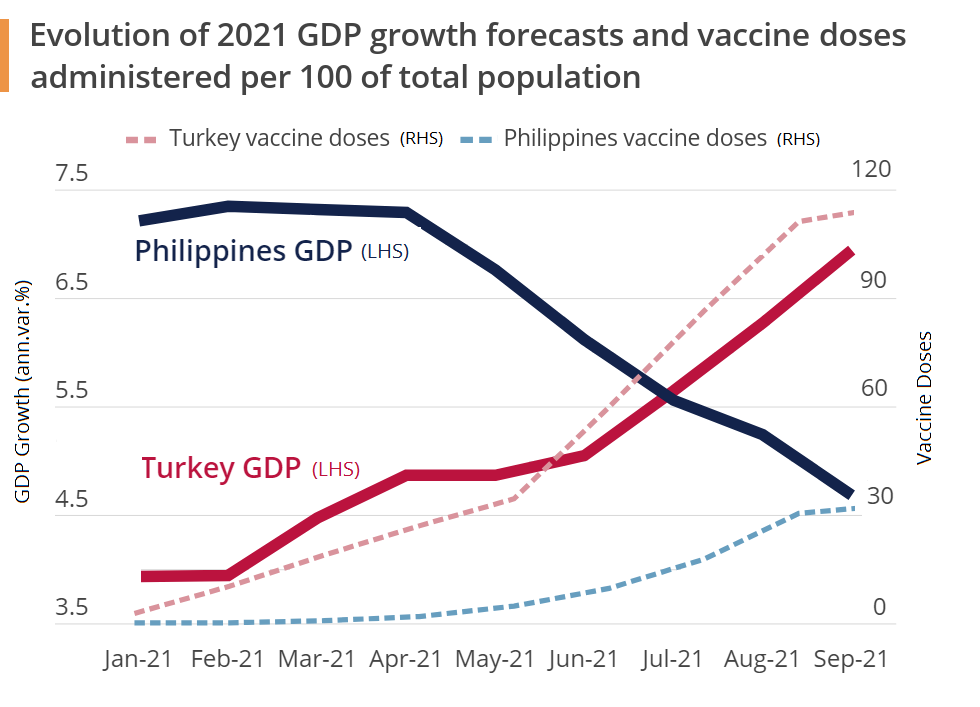 This has had a massive impact on the economies' respective outlooks—as seen through the evolution of GDP forecasts since May. Turkey's economic outlook continues to improve and high frequency data points to further surprises on the upside, while the Philippines' deteriorating outlook is littered with headwinds. Although an array of factors has been at play in recent months, the overarching narrative has been dominated by vaccine availability. Our panel of experts sees GDP expanding 6.9% in Turkey and 4.7% in the Philippines in 2021.
Insights from Our Analyst Network
Commenting on the Philippines' economic prospects, Nicholas Mapa, a senior economist at ING, noted:
"The resumption of lockdowns in April and in August have derailed the economic recovery with the economy backtracking by 1.3% in 2Q. We can expect this trend to continue in the second half of the year. [..] Fiscal stimulus may also be warranted to reverse the economic downturn but it appears that the authorities will cut back on spending to preserve debt metrics after the recent Fitch outlook revision." 
Commenting on the current state of play in Turkey, analysts at JPMorgan noted:
"Turkey recorded a surprising 3.7% (SAAR) GDP gain in Q2 2021 as service-sector activity expanded strongly. With mobility rebounding further this quarter and tourism quite strong, service-sector activity is continuing its recovery. [..] High-frequency data support the case for continued strong growth. As a result of all these factors and of the upside revision to 1Q data, we have raised our 2021 GDP growth forecast to 8.4% (yoy) from 6.8%. We keep the 2022 forecast unchanged at 3.4%, but the risks to this forecast are to the upside especially if there are early elections."  
Our Latest Analysis
Central bank interest in cryptocurrencies is rising. In our latest insight piece, we examine the current state of central bank digital currencies (CBDCs) and what they could mean for the economy.
Israel recently announced its 2022 budget, which if approved would be the first new budget since 2019, following years of political infighting. Our Economist Oliver Reynolds has more.
German elections are scheduled for 26 September, with polling numbers suggesting an extremely tight race. Our economist Jan Lammersen has the latest.