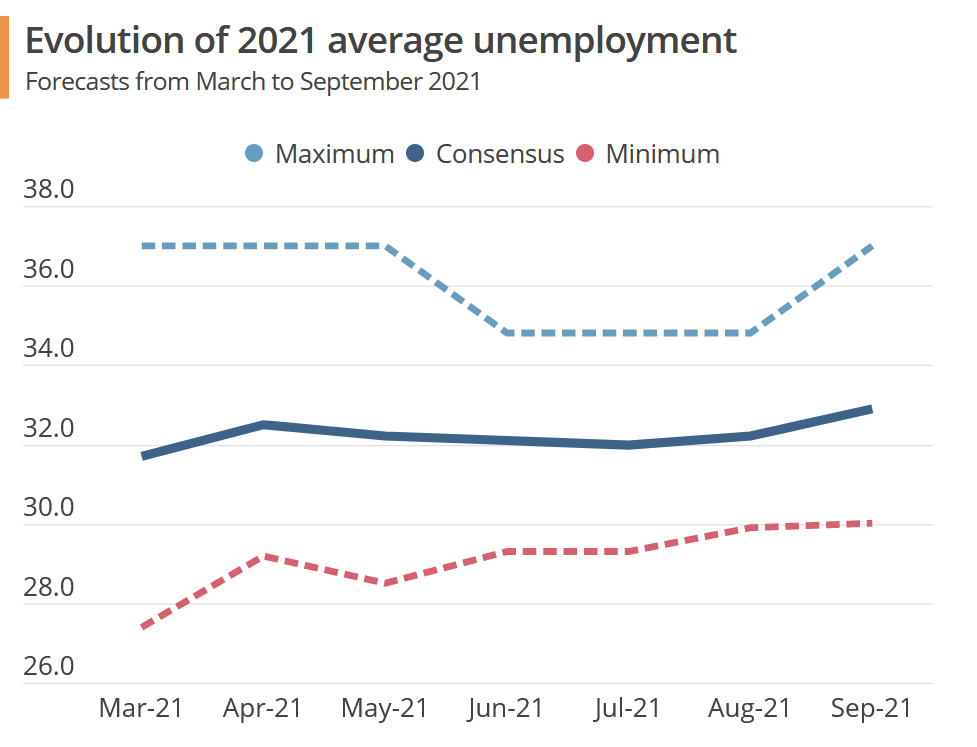 Looking ahead, our panel of analysts projects that the unemployment rate should dip slightly in H2 this year but will remain excruciatingly high nonetheless, and risks are tilted towards the upside. For example, a resurgence of the civil unrest seen at the start of Q3, which caused roughly USD 3.4 billion in damage and impacted thousands of businesses, would bode poorly for employment prospects ahead. Meanwhile, still-elevated new Covid-19 cases, a below-par vaccine rollout, some ongoing measures to contain the virus and a likely Q4 rate hike from the Central Bank are all sure to keep slack in the labor market.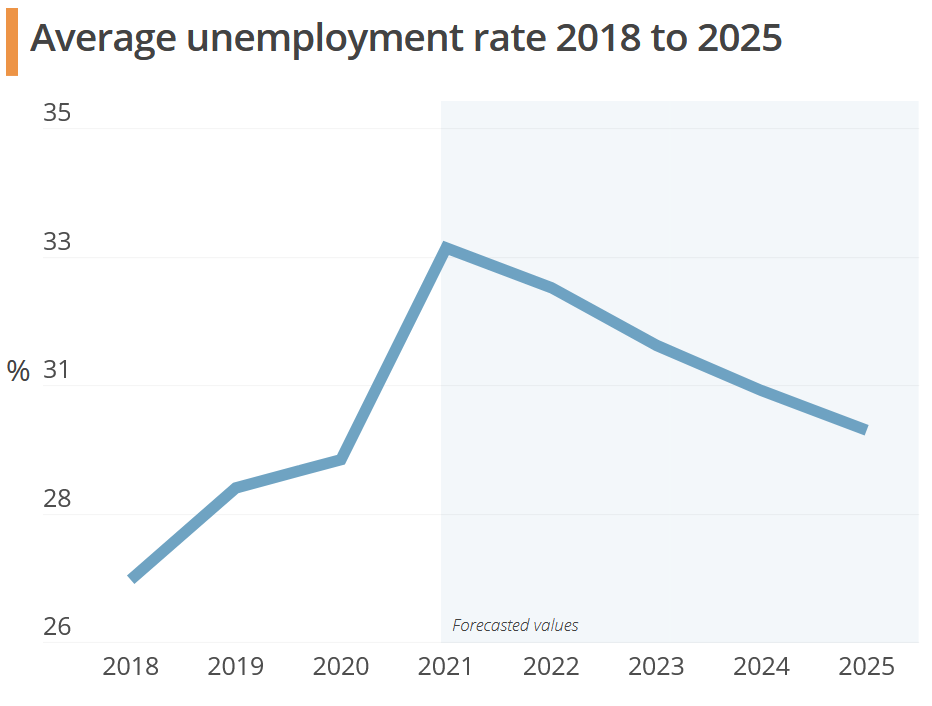 Our panel of experts sees the unemployment rate averaging 32.9% in 2021, but the range of forecasts is wide, with the maximum projection coming in at 37.0% and the minimum at 30.0%
Insights from Our Analyst Network
Commenting on prospects for the rest of the year, analysts at JPMorgan noted:
"The labor market outlook remains weak, with further deterioration likely in the third quarter as the government tightened movement restrictions amid the raging Covid-19 third wave and as deadly riots erupted in July."
Commenting on the benefits of labor reform and policy changes in their latest South Africa report, economists at the IMF concluded:
"A bold strategy to reform labor market institutions is needed to tackle the root causes of extreme structural unemployment. To raise employment and reduce inequality, labor market institutions need to function more smoothly—with a focus on strengthening coordination among social partners, accommodating firm heterogeneity and reducing uncertainty. This requires reforms in the areas of collective bargaining and employment protection legislation, as well as careful minimum wage setting. Being regulatory reforms, these have the further advantage of not requiring government spending—unlike other desirable policy changes that should wait until fiscal space is restored. And if properly designed and swiftly implemented, they could speed up the jobs recovery from the Covid-19 shock."
Our Latest Analysis
Central bank interest in cryptocurrencies is rising. In our latest insight piece, we examine the current state of central bank digital currencies (CBDCs) and what they could mean for the economy.
Norwegians are heading to the polls on 13 September and recent polling suggests a change in power. Our economist Marta Casanovas provides the details.
German elections are scheduled for 26 September, with polling numbers suggesting an extremely tight race. Our economist Jan Lammersen has the latest.