From 2010 to 2020, GDP growth in Sub-Saharan Africa (SSA) averaged 3.1%. This was far below the 5.7% expansion observed in Asia ex-Japan and was comparable to the growth rates of Eastern Europe and the Middle East.
On the surface, SSA's performance disappoints. SSA's population over the last decade has risen by around 2.5% per annum. As a result, GDP per capita grew at a sub-1% rate during the 2010s, far below the level needed for an eventual convergence to developed-world living standards.
Moreover, SSA is by far the poorest world region, with GDP per capita roughly six times below the global average. As a result, SSA should also have the largest potential for "catch-up growth"—the idea that a poor country's economy can expand faster than a rich one's, due to a higher marginal return on investment and the ability to score large productivity gains by adopting the latest technology from abroad. SSA is also endowed with large natural resources and abundant cheap labor: The region holds close to a third of the world's mineral reserves, and the vast majority of the population is under 30 years old.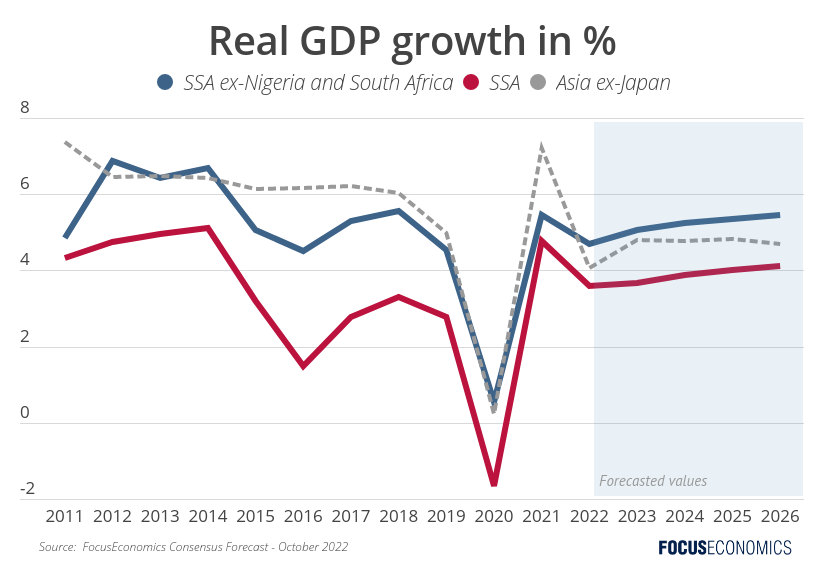 So what is holding SSA back? Institutional deficiencies are a key factor: The region scores the lowest on a host of governance-related metrics. Human capital is also lacking due to weak educational systems. Plus, the continent's natural resource wealth could be leading to so-called Dutch disease in some cases, by which a reliance on the extractive sector reduces funding for and the political urgency to develop modern manufacturing and services industries.
However, in such a large, heterogenous part of the world, regional generalizations can mask the true picture. For instance, the ailing economies of Nigeria and South Africa make up over 40% of SSA's GDP. Excluding them, average growth in SSA in the 2010s suddenly looks much rosier at 5.1%—not far from the level observed in Asia. Over our forecast horizon to 2026, many of the world's most dynamic economies are projected to be African, such as Ethiopia, Rwanda and Uganda. Growth in the region as a whole is also seen accelerating over the same period, on the back of the benefits accruing from the implementation of the African Continental Free Trade Area, as well as gradual improvements in governance standards.
Africa is often talked about as the continent of the future. Over the next few years, it should come closer to realizing that potential.
Insights from our analyst network:
On Ethiopia, one of SSA's fastest-growing economies, the EIU said:
"On the sectoral front, services will drive growth throughout the forecast period, and we expect digital and financial services in particular to pick up. Banking will expand, with reforms expected to translate into improved business investment. Telecommunications will also be a key driver of growth. The government in May passed a new law allowing foreign telecoms operators to provide mobile money services, and with further reforms expected over the coming years, the sector will attract considerable foreign and private-sector investment. Ethiopian Airlines, the national flag carrier, is expected to continue to deliver steady growth."