What's in store for Latin America's largest economy?
On 2 October, Brazilians head to the polls to elect a new president and Congress. Leftist Luiz Inácio Lula Da Silva is the strong favorite to become the next president, although in recent weeks right-wing incumbent Jair Messias Bolsonaro has partially closed the polling gap amid large fiscal handouts and falling inflation.
If Lula wins, he is likely to push for a more redistributive tax system, higher public spending and a greater government say over the commanding heights of the economy—including state oil firm Petrobras. This agenda could be growth positive, but may also stoke inflation and the fiscal deficit, weighing on the real. He would also attempt to repair damaged relations with Latin American neighbors, a task which should be facilitated by the fact that most regional governments are left of center.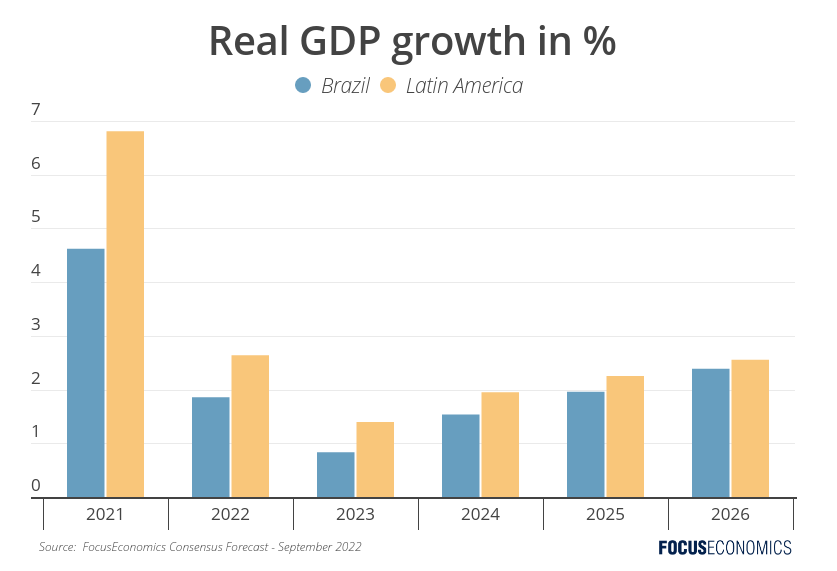 Strengthening ties with the West would also be a priority; under Bolsonaro tensions with the U.S. and EU have risen due to deforestation in the Amazon and the current president's clashes with the judiciary. However, the ratification of the EU-MERCOSUR trade deal could still be scuppered by Lula's protectionist leanings.
In contrast, a second Bolsonaro term would be marked by a smaller state than under Lula, with a renewed push for privatization. However, Bolsonaro has also pledged elevated social handouts, which—as with Lula's plans—could lead to investor concerns over the fiscal deficit and public debt.
Whoever wins the election will have to contend with a highly fractured parliament, which will impede radical policy shifts. This political paralysis is part of the reason behind our analysts' pessimistic GDP forecasts for Brazil: The country is expected to grow at one of the weakest rates in Latin America out to 2026. Moreover, the public debt-to-GDP ratio is seen rising over the next few years, which will keep investors' nerves on edge. In a nutshell: A lackluster economic performance is in store for Brazil, whoever wins the elections.
Insights from Our Analyst Network
On a Lula government,
Fitch Solutions' Andrew Trahan
said:
"We expect Lula would govern relatively pragmatically, in line with his first term in office, preventing a massive shift in policy. He will likely prioritize efforts to increase social transfers, and has suggesting scrapping the country's fiscal anchor, which will lead to higher deficits in the near term."
Silvio Campos Neto, Tendências Consultoria, took a less sanguine view:
"[A Lula presidency] means high uncertainty, given its interventionist economic orientation and the high expectations created by the population around its return, which increases fiscal risks. […] Promises of increased spending, and a return to political use of state-owned companies and banks raise serious concerns. From a political and institutional point of view, an improvement in relation to the current environment is expected."