The robust labor market can be linked to the progressive removal of Covid-19 restrictions throughout the bloc, and lax fiscal policy. The latter contrasts sharply with the Euro area's approach following the 2008 financial crisis, which led to a prolonged period of austerity measures, anemic demand and high unemployment. In the most recent sign of the change in approach, in May the European Commission proposed to continue to suspend the fiscal rules capping member states' debt and deficits until the end of 2023. Moreover, with Brussels' blessing a host of governments have recently introduced fresh fiscal packages to tackle the rising cost of living.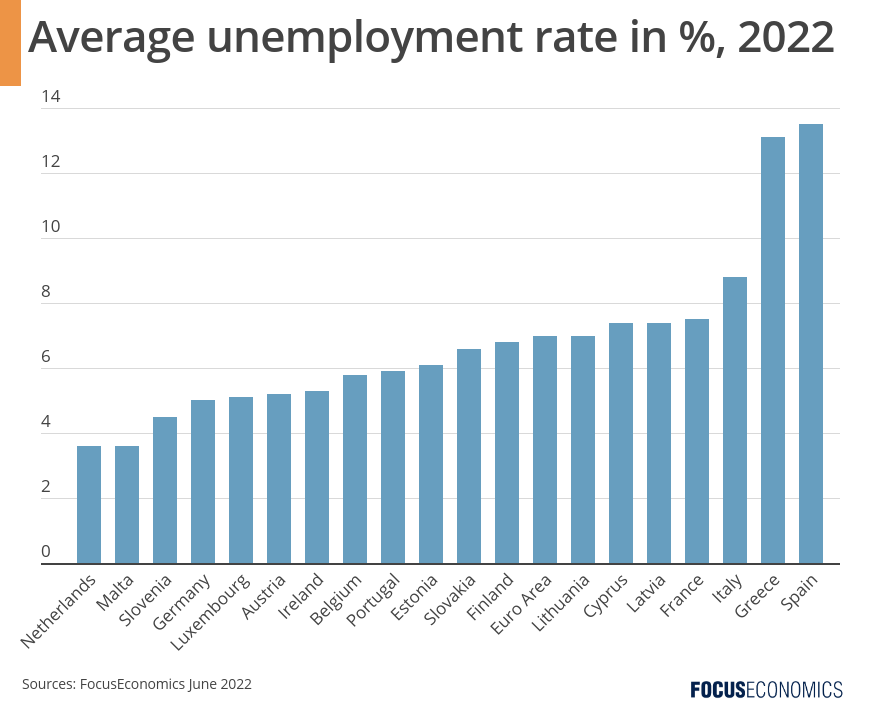 To be clear, Europe's labor market is much less tight than that of the U.S., where the vacancy rate is currently at 7% compared to the Euro area's 2.6%, and the unemployment rate is roughly half that in the Euro area. That said, the Euro area figure masks huge discrepancies among member states: While unemployment rates are still in double digits in countries such as Greece and Spain, they are a mere 2–3% in several countries in Northern and Central Europe. 
Although record-low unemployment is to be welcomed, there is a less positive side to an overly tight EU labor market in some countries: A soaring job vacancy rate and creeping labor shortages in certain sectors, which are hampering economic output. This is being exacerbated by the continent's rapidly ageing demographic profile; Germany's labor force is set to shrink by 300,000 people this year for instance. Moreover, lower unemployment could add to wage pressures and stoke already record-high inflation. 
Going forward, our analysts do not see much progress in reducing unemployment further, given slowing economic activity, elevated inflation and economic uncertainty, and likely policy tightening by the ECB. Our Consensus is for the Euro area's unemployment rate to stagnate at slightly below 7% over the next several quarters. However, this would still mean that unemployment continues to hover around its lowest level since the creation of the common currency—providing a chink of good news amidst an increasingly downbeat economic panorama.  
Insight from our analyst network: 
Bert Colijn, senior Eurozone economist at ING, said: 
"Employment expectations remain much stronger than economic sentiment at this point. While the economy is clearly cooling, we see that businesses still have decent intentions to hire for the months ahead. The employment expectations index by the European Commission has been trending down slightly in recent months but remains at historically high levels. That means we don't expect unemployment to trend up anytime soon and even lower levels could be reached."
George Buckley, economist at Nomura, said: 
"Since the start of last year the euro area unemployment rate has been falling at a pace of around 0.1pp per month. Its current level is 6.8%, and that is almost 1pp below the OECD's current estimate of the NAIRU (7.7%) and already about 0.5pp below the average rate expected by the ECB for 2022 in its March forecast round. Business surveys have shown employment holding up well, with the employment index of the composite euro area PMI having been rising modestly for the past few months (and currently standing around 4 points above its long-run average). Vacancies continued to rise in April in Germany and France (according to the latest Indeed data), though some of the demand for labour may yet be met by rising hours worked, which at the end of last year were still almost 2% below peak."