Over the last month, the analysts we poll have significantly revised up their 2022 GDP growth forecasts for a host of Eastern European economies, including heavyweights Hungary, Poland and Turkey. This was likely in response to economic data showing that the economic fallout from the war in Ukraine has so far been less severe than initially feared.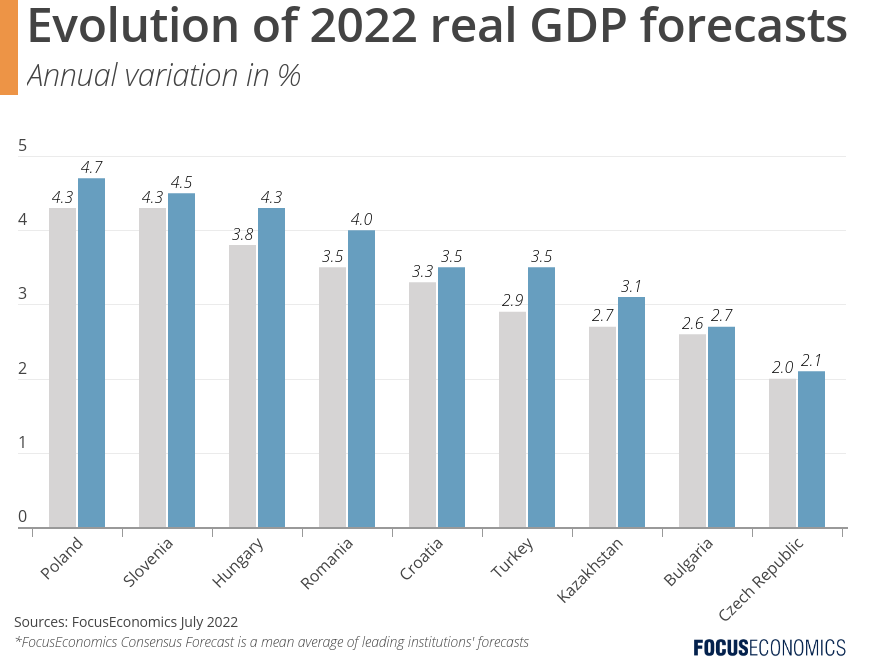 Regional activity rose 5.0% in annual terms in Q1; falling unemployment and the lifting of Covid-19 restrictions have boosted consumer spending so far this year, despite surging inflation and tumbling consumer confidence. The recent approval of extra fiscal stimulus measures in many countries in response to higher price pressures has also brightened the outlook. Poland's government has slashed income tax for instance, while Hungary has imposed caps on food and fuel prices. A third factor behind the improved outlook has been monetary loosening in Russia. Russian interest rates halved in Q2, mitigating the country's economic downturn and having a positive knock-on effect on other economies that rely heavily on Russia for trade.
That said, this brighter picture could quickly change. Some panelists now forecast a recession in the Euro Area over the next 18 months as the ECB raises rates; were this to occur, economic projections for Eastern Europe would likely deteriorate. Moreover, Russian gas exports to Europe have fallen recently in response to the West's support for Ukraine, making a complete cut-off of Russian gas from Europe a distinct possibility looking ahead. This would weigh heavily on the continent's industrial output. Aggressive monetary tightening by Eastern European central banks is a third downside risk, due to the knock-on effect on investment and consumption. Eastern Europe's 2022 GDP growth forecasts remain lower than they were before the war in Ukraine broke out. Only time will tell if the forecast upgrade over the last month is part of an enduring trend, or more of a dead cat bounce.
Insights from our analyst network:
On Eastern Europe's recent economic performance, analysts at Goldman Sachs said:
"Our aggregate Macro-Data Assessment Platform (MAP) Surprise Index, which allows us to track whether economic data are outperforming or underperforming consensus expectations, suggests that economic activity in the CEEMEA region as a whole continued to surprise to the upside in June, although levels are coming down from the April highs. In particular, Poland recorded the largest upside surprises."
On Hungary, ING's Peter Virovacz said:
"Despite all the negative external developments (war, sanctions, supply chain disruptions, etc), GDP growth has held up quite well. The first quarter brought a 2.1% quarter-on-quarter performance, though it was mainly spurred by the extraordinary government transfers to households. Incoming data shows a marked slowdown in the second quarter and in our base case we see a minor contraction on a quarterly basis. We look for a mild rebound during the second half of the year; thus, we see GDP growth at 5.3% in 2022."