Following the initial spread of Covid-19 in early 2020, China appeared to be the poster child for how to successfully contain the pandemic while simultaneously protecting the economy. As the developed world suffered untold death rates and went into repeated lockdowns, China nipped the virus in the bud early on, and then enjoyed many months largely free of restrictions—strict border closures aside. The Asian powerhouse was the world's only major economy to record an expansion in 2020, and went on to grow over 8% in 2021.
That has all changed this year. Since January, our analysts have slashed their 2022 GDP growth forecasts by 1.3 percentage points. The most pessimistic prediction among our analysts expects an expansion of little over 2%.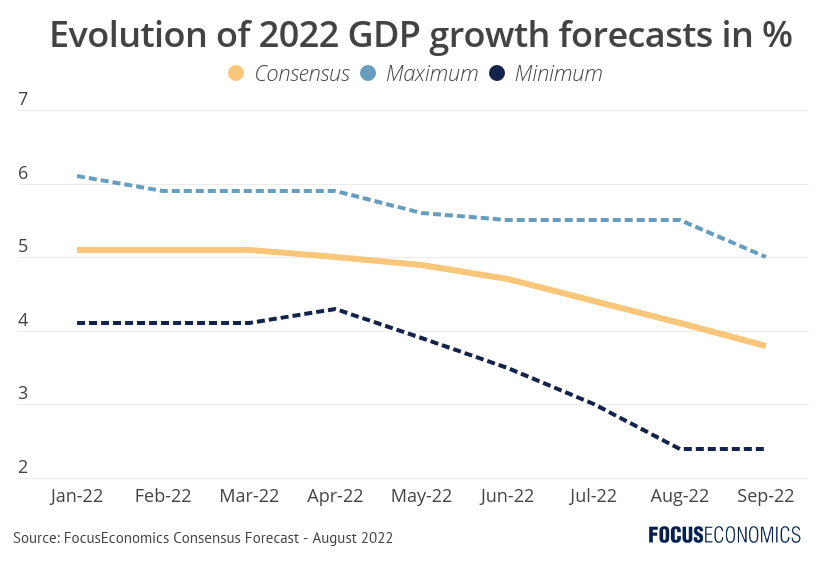 Frequent Covid-19 restrictions are partly to blame. Large swathes of the country have been in and out of lockdown since Q2 as the Omicron variant has spread. In mid-August, cities which together comprise around a quarter of GDP—some USD 4.5 trillion—were classified by the government as medium- or high-risk areas.
But the virus is not the only factor at play. The steepening property downturn—which has been accentuated in recent months by a growing mortgage boycott by homeowners of unfinished properties—is weighing on construction investment and consumer spending. The worst drought in decades is currently leading to power rationing and factory shutdowns in some areas. And slowing economic momentum in developed economies poses a threat to exports.
Going forward, the economic panorama is unlikely to brighten in the absence of a shift in the government's Covid-19 stance, which is not expected this year. Further downgrades to GDP prospects are to be expected in the coming months as a result, particularly in light of July data which was weak across the board. The memory of the China that conquered Covid-19 and led the global economic recovery from the pandemic is becoming ever more distant.
Insights from Our Analyst Network
On the July figures and their own forecasts, analysts at Goldman Sachs said:
"July activity data confirmed the lack of domestic demand. With a few exceptions, most indicators showed sequential decline from June to July. For housing construction, infrastructure investment and steel production, the sequential declines were double-digit. […] Taking into account the weaker-than-expected July data as well as near-term energy constraints, we cut our Q3 real GDP growth forecast from 17.5% (qoq annualized) to 14.0% […] Our 2022 full-year forecast falls even further below consensus, to 3.0% (from 3.3% previously)."
On China's Covid-19 strategy, analysts at Nomura said:
"After the party congress [later this year], we expect a further moderation of ZCS [Zero-Covid Strategy] measures, but not a full shift to living-with-Covid yet. Following the March 2023's National People's Congress (NPC), the leadership change will be fully completed with the next president, premier and ministers determined. We expect an almost full shift to living with Covid thereafter, even though Beijing might still retain the ZCS in name only."
---