Click on the image to see a larger version
Euro Area | Price pressures rise in August
Harmonized inflation came in at 1.8% in January, above December's 1.1% and marking the highest reading since February 2013. Higher energy prices have caused inflation to exit what European Central Bank President Mario Draghi has called the "danger zone" of below 1.0%, easing concerns that the euro area was stuck in a deflationary context. Divergent trends in price pressures across countries have ramped up debate over how the ECB should proceed regarding its monetary policy program and some analysts have begun to call for a tapering of the bond buying program.
Many of our analysts raised their inflation projections up a notch this month and the Consensus Forecast now foresee prices growing annually at an average rate of 1.5% this year, after a meagre 0.2% in 2016. The higher print will be driven by the diminished impact of low energy prices and reduced economic slack. In 2018, inflation is seen holding steady at 1.5%.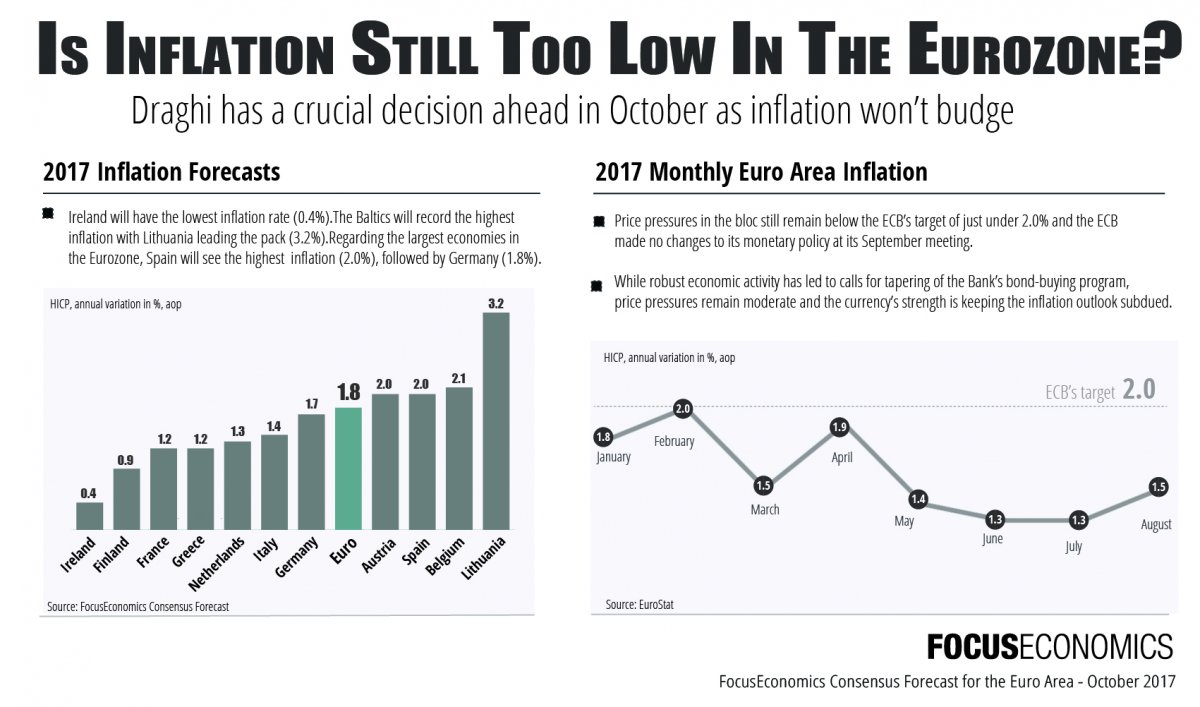 Click on image to see larger version
Read more about the Euro Area economy 
ASEAN | Inflation stabilizes in September
Preliminary data shows that inflation in ASEAN came in at 2.4% in September, matching August's result. Overall, inflationary pressures remain subdued in the region; however, a tightening cycle in the U.S. has led most central banks to hold off from cutting rates. In September, the central banks of the Philippines and Thailand held the policy rates unchanged. Meanwhile, at its October semi-annual meeting, the Monetary Authority of Singapore held the rate of appreciation of the Singapore dollar nominal effective exchange rate (S$NEER) policy band unchanged.
Our panelists see price pressures rising slightly in 2018, from a projected average of 3.0% in 2017. Next year, our panel expects inflation of 3.1%, which is down 0.1 percentage points from last month's forecast. For 2019, our panel sees inflation of 3.3%.
Read more about the ASEAN economy
East & South Asia | Inflation cools in September
Inflation in East and South Asia softened in September as price pressures in China and Korea moderated. Inflation eased from August's eight-month high of 2.2% to 2.0% in September. Subdued inflationary pressures continue to warrant loose monetary conditions across multiple economies in the region.
Next year, panelists expect regional inflation to gradually gain momentum on the back of higher commodity prices and stronger global growth. They project an average of 2.6%, which is unchanged from last month's estimate. Inflation is expected to inch up in 2019, with panelists forecasting average inflation of 2.7%.  
Read more about the ESA economy
Central & Eastern Europe | Inflation rises to highest rate since March 2013
According to an estimate produced by FocusEconomics, inflation in the CEE region rose in August, coming in at 2.0% following the 1.8% print in July. August's result marked the highest reading in over four years. The majority of the region's economies saw higher price pressures in August, largely due to more elevated commodities prices.
FocusEconomics panelists see inflation averaging 1.9% in 2017. In 2018, inflation is expected to rise slightly to 2.3%, which is up 0.1 percentage point from last month's forecast. 
Read more about the CEE economy
CIS Countries | Inflation falls to multi-year low in August
Price pressures dropped in the CIS economy in August, falling from 4.3% in July to 3.8%. Lower food prices in Russia along with favorable exchange rates drove the decline. Subdued inflationary pressures have led a number of the central banks in the region to ease monetary policy. In September, policymakers in Belarus and Russia announced they were cutting interest rates.
The analysts we surveyed this month see inflation rising moderately by the end of the year, and coming in at 4.6% on average in 2017. Next year, inflation is expected to be stable and end 2018 at 4.6%, which is down 0.2 percentage points from last month's forecast. 
Read more about the CIS economy
South-Eastern Europe | Inflationary pressures strengthen in August
Inflation in the South-Eastern Europe region regained traction in August following three consecutive months of dwindling price pressures. Inflation rose from 6.2% in July—the lowest reading since January—to 6.6% in August as a result of faster inflation in Turkey and stronger price pressures in a majority of countries in the region. Softer inflation was only seen in Albania, Greece, Romania and Serbia, while Kosovo was the sole country that saw steady inflation this month.
Inflation is expected to reach a six-year high of 6.1% this year due to soaring inflation in Turkey, which is suffering from lagged pass-through effects of the weaker lira and strong demand-pull pressure. Next year, inflation is expected to ease slightly to 5.6%, which is up 0.2 percentage points from last month's forecast. The revision reflects higher inflation projections for Cyprus, Romania and Turkey, which more than offset lower estimates for Bosnia, Bulgaria, Greece and Serbia. The rest of the country inflation forecasts were kept unchanged this month. 
Read more about the SEE economy
MENA | Inflation steady in August
According to a regional aggregate produced by FocusEconomics, inflation again came in at an over one-year low of 4.0% in August, mirroring July's reading. Softening price pressures were observed across several countries in the region, including Egypt, Iran, Kuwait, Qatar and the UAE. On the other hand, inflation accelerated in Algeria, Bahrain, Lebanon, Morocco, Oman and Tunisia. The annual drop in consumer prices was also more moderate in Israel and Saudi Arabia compared with the previous month.
Inflation is expected to rise in the months ahead as several GCC countries broaden their tax bases and oil prices continue to gradually increase. FocusEconomics panelists forecast regional inflation of 4.9% in 2017. Next year, inflation is expected to be largely stable at 5.2%, which is unchanged from last month's estimate.
Read more about the MENA economy
Latin America | Price pressures remain subdued in September
A comprehensive inflation estimate suggests that inflationary pressures in Latin America—without considering the current period of near hyperinflation in Venezuela—were steady in September. The FocusEconomics regional estimate showed that inflation in Latin America (excluding Venezuela) was 5.3%, matching August's revised result and marking a multi-year low. Preliminary data for October revealed that inflation dropped in Peru, price pressures rose in Colombia, Paraguay and Uruguay. October data for the remaining economies is still outstanding.
Venezuela is experiencing an episode of near hyperinflation; if we include it in the aggregate, inflation in Latin America is projected to end 2018 at 56.0%. Excluding Venezuela, inflation in Latin America is expected to be 5.3% next year. In 2019, analysts project regional inflation excluding Venezuela to fall to 4.6% (32.7% including Venezuela).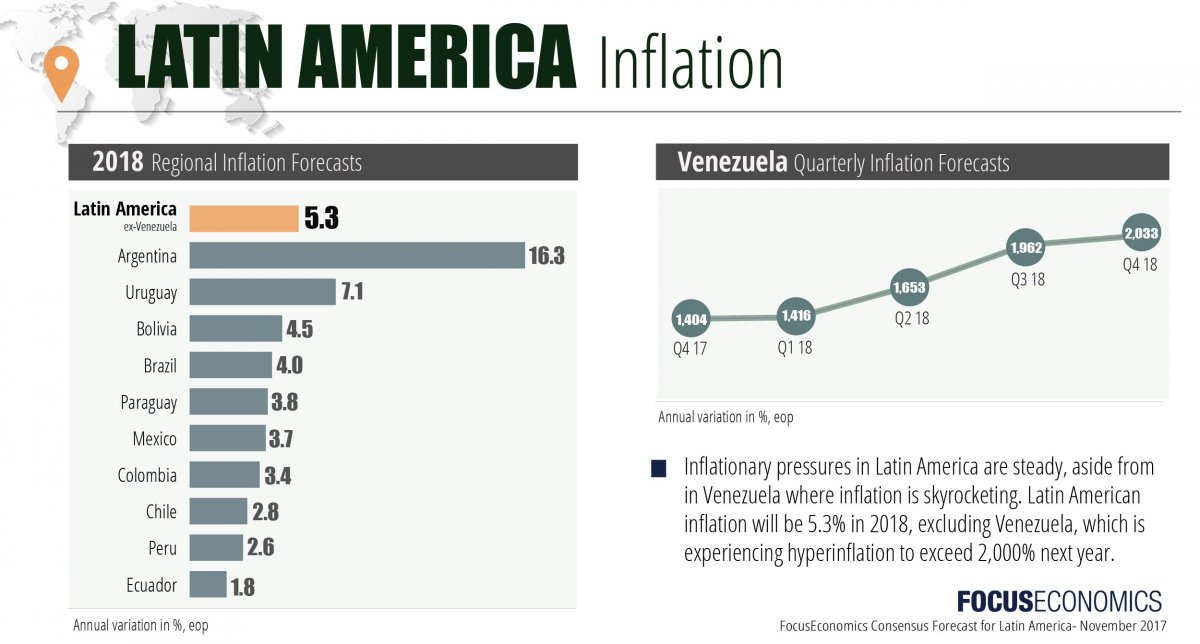 Read more about the Latin American economy
Central America & Caribbean | Inflation inches up in August
Inflation accelerated timidly for a second consecutive month in August, inching up to 3.4% from 3.3% in July. Higher inflation was seen in Belize, the Dominican Republic, El Salvador, Honduras, Nicaragua and Panama, which more than offset lower inflation in Costa Rica and Guatemala. The remaining countries in the region saw steady inflation for the month.
Despite the recent pick-up in energy prices and potentially higher food prices following Hurricane Nate in Central America and Hurricanes Irma and Maria in the Caribbean, panelists cut their 2017 inflation estimates by 0.1 percentage points to 2.9% this month. Next year, Consensus Forecast panelists expect inflation to experience a moderate acceleration to 3.3%, which is down 0.1 percentage points from last month's estimate. 
Read more about the Central American economy
Sub-Saharan Africa | Inflation inches down in September
Price pressures eased slightly in September, as inflation fell from August's 12.7% to 12.6%, according to preliminary data compiled by FocusEconomics. While inflation has eased in the majority of economies in the region since the beginning of the year, price pressures are still high in certain economies, notably in Angola, the DRC, Mozambique and Nigeria.
After a large upward revision to the region's price projection last month on the back of soaring inflation in the DRC due to a drastic weakening of the currency, FocusEconomics analysts held the inflation forecast for 2018 unchanged this month. Regional inflation is seen averaging 10.0% in 2018. In 2019, our panel expects regional inflation to average 8.3%.