The spike has been predominately driven by the sharp rise in gas prices; gas is used to produce most nitrogen fertilizers. Consequently, Russia has in recent months implemented a temporary export quota and bans on certain types of fertilizers, while China introduced similar measures, further restricting global supply and sending fertilizer prices higher still. Moreover, a spike in ammonia prices and some potash supply disruptions in Canada have also contributed to the recent rise in fertilizer costs. Lastly, lingering supply chain issues, weather-related disruptions and elevated shipping container costs are also likely leading to shortages and fueling fertilizer price gains. One thing is for certain: Increased fertilizer costs are taking huge chunks out of farmers' profit margins and leading to higher food prices for consumers.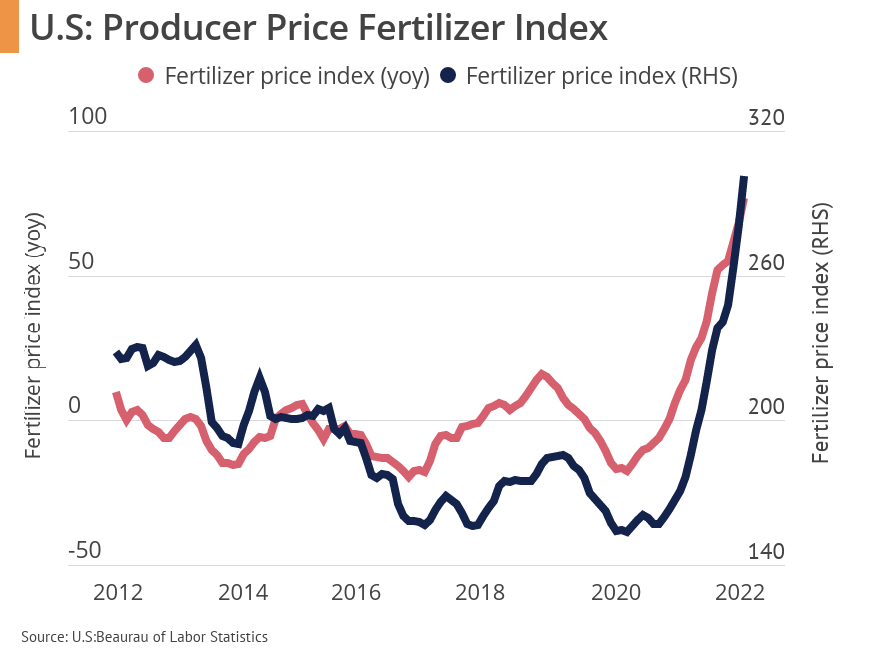 The corn market is likely to be the most impacted by the jump in fertilizer costs due to its relatively higher use of fertilizers. Some farmers could transition their planting acreages away from corn and into more profitable crops that require less fertilizer, or reduce the amount of fertilizer used in corn production. This would likely dampen output and lend further support to corn prices.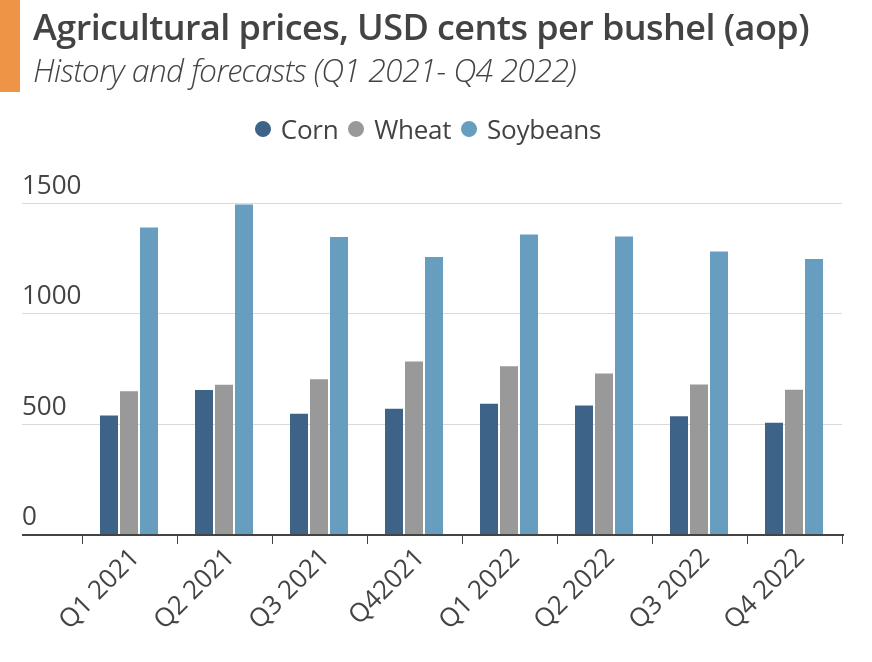 Imbalances in the fertilizer market are expected to ease in the second half of this year, which should weigh on agricultural prices by the end of the year. Our FocusEconomics Consensus Forecast expects agricultural commodity prices to average roughly 10.4% lower in Q4 2022 relative to Q4 2021. Meanwhile, our panel expects corn prices to average USD 504 cents per bushel in Q4 2022, which represents a 19.5% drop from their end-January level. Moreover, soybean and wheat prices are also expected to have fallen at a double-digit pace by the final quarter of 2022. That said, agricultural prices are still set to stay elevated by recent historical standards.
Insights from Our Analyst Network
Commenting on the outlook for food prices in the U.S., analysts at Goldman Sachs noted:
"While weather-related spikes in crop prices often reverse, the soaring costs of certain farming inputs—including a nearly five-fold increase in some fertilizer prices—will limit the extent to which commodity prices can meaningfully revert. With food commodity prices already having increased by an additional 6% this year and our strategists expecting them to rise further on net over the next couple quarters, the stage has been set for further substantial increases in retail food prices this year." 
On U.S. corn production, analysts at EIU noted:
"Competition for available farmland could be particularly stiff in the next season, especially in the US and Ukraine. Seeding intentions could also be complicated by the recent surge in fertilizer prices, which could incentivize some shifting into other crops [and away from corn]. […] We continue to expect a slight increase in plantings for the 2022/23 season, with production 1% higher, at a record 385 million tonnes. However, as maize requires relatively intensive use of fertilizers, herbicides and pesticides compared with alternatives, including soybeans, much may depend on whether the recent rally in input prices is sustained over the coming months."