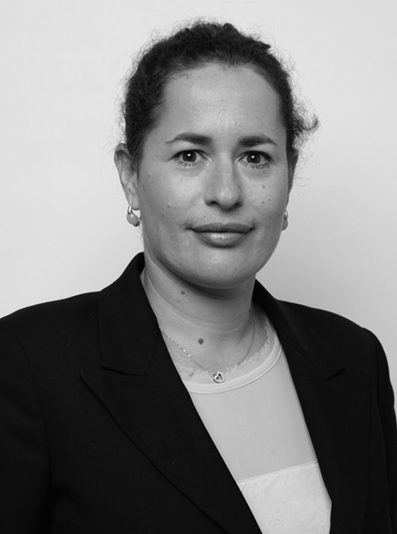 Keren Uziyel
Keren Uziyel is an experienced senior analyst in The Economist Intelligence Unit's Middle East and Africa team. She works closely with colleagues and clients to produce regular analysis of economic, political and business developments and prospects in the region, as well as customized research on a wide range of issues. In addition to her regional responsibilities, Keren is a Country Risk Service Manager for the team, helping with the development of the product and ensuring consistent quality of output.
Before joining the EIU in 1998, Keren worked as an analyst covering fixed income for UBS in Switzerland, with a focus on emerging markets and financial analysis. She grew up in the UK but has also lived and worked in Israel, Turkey, Austria and Switzerland.
Keren holds a BA in philosophy, politics and economics and an MPhil in modern Middle Eastern studies from the University of Oxford, where she specialized in economic development and regional security issues.
---
What will be the economic impact of the normalization agreements?
The normalization deal will have long-term economic benefits going in both directions for Israel and the Gulf Arab states but the immediate macroeconomic impact will be modest given the constraints on local and global demand and oversupply in many sectors following the coronavirus pandemic. Some sectors will nevertheless see more immediate growth—for instance cooperation in health and agricultural science should accrue benefits to both Israeli firms and to their Gulf partners relatively early on while in other areas, economic relationships will be built early but the main economic gains may well take some time to materialize (for instance in tourism). The real gains will be in opening up improved access to markets beyond the specific home markets—Asia for Israel and Europe and the U.S. for the Gulf states—and also in offering new sources of investment (especially from the Gulf to Israel) both in new technology and start-ups but also in more traditional industries such as logistics or mining where the Gulf has expertise as well as financial resources.
Which countries will benefit the most?
In relative terms, the most immediate beneficiary will be Sudan in terms of economic stabilization, access to bilateral support from a wider range of countries (more to do with the sanctions lifting than relations with Israel per se) and multilateral agencies and the investment opportunities especially from the Gulf (but also potentially Israel for agricultural projects in particular). The lifting of U.S. sanctions will ease a number of constraints, help stabilize the currency and open the pathway for potential debt forgiveness and multilateral support packages, although the fragile political landscape will potentially hinder the progress of such programs.
Of the countries in the Gulf, Saudi Arabia will benefit in addition to the UAE and Bahrain. To an extent, Israeli firms have been operational / selling their wares discreetly/indirectly in the Gulf to certain receptive industries but the normalization gives Gulf firms and also state investment funds the chance to seek opportunities in Israel and the markets that Israel is close to.
The U.S., Israeli and UAE governments have established a trilateral regional development fund totaling US$3bn to promote economic cooperation and prosperity in the broader Middle East and North Africa region, but the bulk of gains will accrue through the private sector. 
Which economic sectors will benefit the most?
Israeli firms have had a back-channel presence in some Gulf states for a while as well as government to government cooperation. Even prior to the normalization, Israeli firms are thought to have shared certain cyber-security and artificial intelligence expertise with the UAE as part of security coordination efforts (For instance, both Dubai and Tel Aviv hosted important diamond centers that sought to cooperate through alternative channels prior to the agreement but now have explicit link-ups). Although primarily driven by security and other political considerations, the potential for increased technology cooperation and commercial development is also an important driver of the agreement. The UAE-Israel deal offers scope for cooperation in a number of areas. The Bahrain deal is less substantive on the face of it given the much smaller economy but it also allows easier access for Israeli firms to the Saudi market and opportunities in areas such as fintech where Bahrain has strengths.
Israel has gained a global reputation for the strength of its entrepreneurship and innovation and the importance of high-technology goods and service exports to its economy. It is also a leader in promoting the evolution and development of start-up innovation both from a funding and science viewpoint. The UAE has the most advanced technology, e-commerce and innovation landscape in the Gulf, but, despite efforts, this area of development has struggled for a number of institutional, regulatory, educational and cultural reasons to replicate home-grown technology businesses that would have a global reach. Healthcare cooperation and commercial deals were signed between UAE and Israeli firms shortly after the normalization was announced, with several strategic agreements and Memorandums of Understanding (MoUs) already initialed in advanced biotechnology and healthcare research. One of the other earliest deal-making areas has been in agricultural and water technology, with the UAE seeking to improve food security by tapping advanced technologies and several Israeli firms offering expertise in related areas.
Israeli firms have advanced offerings in a number of emerging technologies, collectively known as the internet of things, that form the thrust of the so‑called Fourth Industrial Revolution and will be important in the consumer market. For instance, in September Israel's Mobileye, a leading global player in autonomous navigation, signed a deal to deploy its technology in taxi fleets in Dubai over the next two years. An Israeli venture fund, OurCrowd, has already signed an agreement with a UAE-based business development incubator, Phoenix, to increase technology business ties between the two countries, with the Israeli firm to use its expertise to help to boost opportunities for UAE start-ups. Phoenix, meanwhile, hopes to channel Gulf investors towards potential targets in Israel. 
In the case of the UAE and Israel in particular, the governments are trying to build strong travel links. The two countries have already signed agreements that will allow multiple airlines to fly several times a week each between the two countries and a visa-free travel system. The current air travel and tourism market is severely restricted by the coronavirus pandemic, but the Gulf opening will provide Israel's population with a new travel destination and an important hub particularly for travel to Asia, while overflight permission will also ease conditions for airlines. Abu Dhabi-based Etihad and Dubai-based Emirates are both preparing for regular scheduled commercial flights to Israel, but the severity of the pandemic means that they are unlikely to launch in earnest until early 2021.
UAE firms are also especially keen to exploit potential opportunities; they are already bidding for Israir (an Israeli airline), and Dubai's DP World (a multinational logistics company) is considering taking a stake in Haifa port. The latter in particular will be especially welcomed given the expertise of UAE firms in global trade and logistics.
Do you see other Arab states normalizing relations with Israel in the near term? If so, which?
The ability and/or desire of other Arab states to fully normalize relations with Israel depends on a number of factors, including perceptions of how such a move would be domestically received.
The mostly likely states to follow are Oman, which has already taken steps towards more open relations with Israel in the past few years and will be encouraged to do so as it moves closer to other GCC states and seeks greater financial support. Saudi Arabia will also continue to build ties, and leverage Bahrain's normalization move to build more commercial and geopolitical linkages. We believe that a transfer of power to the Crown Prince, Mohammed Bin Salman, is likely and that he would probably move forward with an explicit normalization agreement but that such a move is not going to take place while the current king is still in power. Elsewhere, Morocco and Mauritania are the most likely of the remaining Arab League members to normalize ties—both made advances in the past in this direction when there was optimism over the Peace Process in the 1990s. Both would see shared security (Islamist militancy) and economic opportunities as well as a chance to advance links with the U.S. Moreover, the UAE is known (as in Sudan) to be increasing its economic influence in both these countries and is likely to encourage them to do so. In Morocco in particular however, concerns over the domestic reception to such a move (with most Arab populations outside the GCC states still hostile to Israel and strongly supportive of the Palestinian cause) could be a constraint.