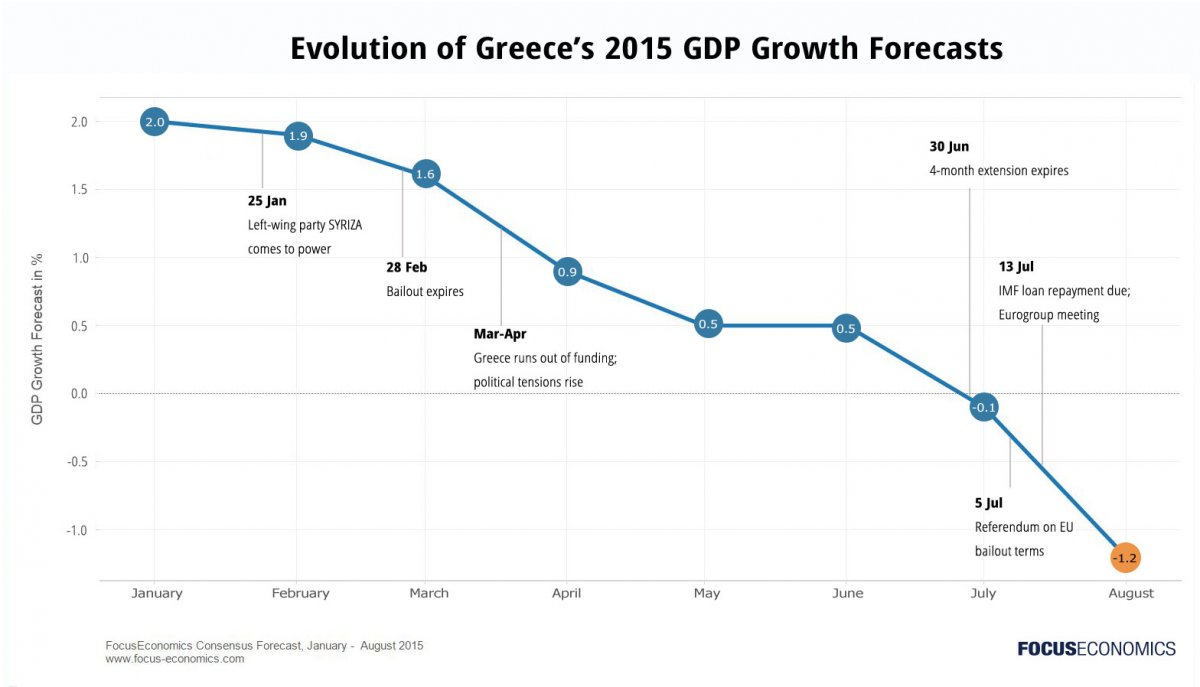 In February, panelist's revised their forecasts down moderately as uncertainty regarding Greece's future began increasing.  Anti-austerity party SYRIZA had just won a decisive victory in Greece's 25 January snap legislative election, signaling a major power shift in Greece. New Prime Minister Alexis Tsipras was sworn in after forming a coalition government and pledged to remove many of the former government's austerity measures paving the way for an upcoming conflict with Greece's international lenders. At that time, however, it was unclear how the new government would proceed with bailout negotiations and positive data limited the increased uncertainty's impact on the forecast. FocusEconomics panelists revised their forecast down by 0.1 percentage points in February, projecting a 1.9% expansion in 2015.
Following February's moderate deterioration, the decline in Greece's economic prospects picked up pace rapidly. The FocusEconomics Consensus Forecast panel revised downward their outlook for Greece's 2015 economy growth by 0.3 percentage points in March, 0.7 percentage points in April and 0.4 percentage points in May. By May, panelists were expecting the economy to expand a meagre 0.5% in 2015, down from the 1.9% expansion predicted in February. The rapid deterioration in Greece's economic prospects were driven by rising political tensions between Greece and its international lenders as negotiations to unlock EUR 7.2 billion from the extended second bailout remained stalled. The funds were conditional on the country enacting a number of reforms, which were the stumbling block in the negotiations. Moreover, Greece was teetering on the edge of bankruptcy and Tspiras' was facing an increasingly challenging domestic environment. Tspiras' had campaigned on an anti-austerity platform and hard-left wing members of his coalition were criticizing the government's actions. On the extreme side, the possibility of another snap election or even a "grexit" was beginning to place downward pressure on the forecast. 
Positive economic data led to a temporary halt in the weakening of Greece's forecast in June. The forecast remained unchanged at May's 0.5% projected expansion. The result was driven by a slightly larger-than-expected expansion in the first quarter and industrial production tallying the largest increase in almost five years in March. However, the stable outlook was short-lived and, in July, the panel downgraded Greece's forecast by 0.6 percentage points, forecasting a contraction for 2015. The rapid worsening was largely due to the abrupt end of negotiations between Greece and its international lenders following Tsipras' surprise call for a referendum on 5 July over an extended bailout program. The announcement came just a few days before the bailout program's expiration and an IMF loan repayment deadline on 30 June. The building drama caused panelists to downgrade their projections and forecast a 0.1% contraction for 2015.
The rapid decline continued in August, despite a tentative agreement signed on 13 July designed to keep Greece in the Eurozone. FocusEconomics Consensus Panelists cut their 2015 forecasts by 1.1 percentage points and now expect the economy to contract 1.2%. While the agreement bodes well for the country's depleted finances, a large risk of foot-dragging by the Greek government or political upheaval in the future could threaten long-term success of the program. Moreover, a number of participants still believe that the risk of a "grexit" is large and that economic growth will struggle to gain momentum in the medium-term.