The economy expanded 0.8% compared to the previous quarter on a seasonally adjusted basis, according to comprehensive data released by the National Statistics Office (INE) in late May, which came in above market expectations of a 0.7% increase.
Despite the mild expansion in private consumption in Q1, the domestic sector continues to pull its weight despite higher inflation and meager wage growth, highlighting the resilient dynamics of Spanish households. Government consumption swung from contraction in the last quarter of 2016 to expansion in Q1 while fixed investment sped up markedly from Q4 to Q1 and represented the highest reading in nearly two years.
However, the star of the show was most definitely the external sector. Export growth was the best since Q1 2007, showcasing the improved competitiveness of Spanish exports and import growth was the strongest since September 2009. Overall, the net contribution of trade to overall growth improved from plus 0.7 percentage points in the fourth quarter of last year to plus 1.1 percentage points in the first quarter of this year.
On an annual basis, Spanish GDP rose 3.0% at the outset of the year, which mirrored the reading observed in the previous quarter. The economy's still solid performance should ensure Spain remains one of the fastest-growing economies in the Eurozone for a third consecutive year.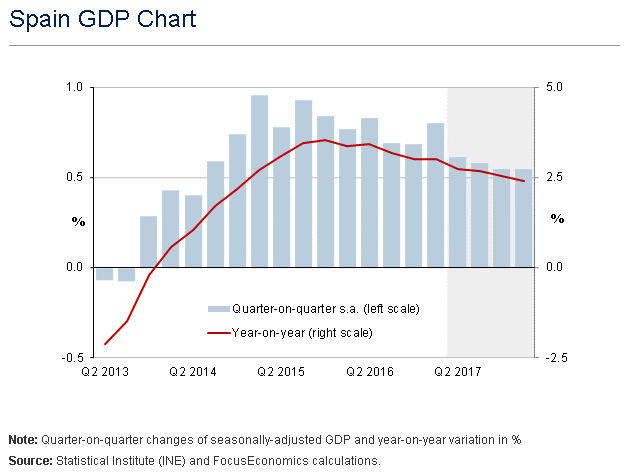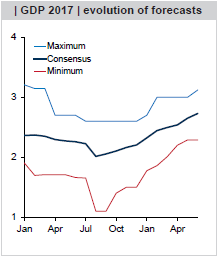 Taking a look at the graph above, FocusEconomics does expect a moderation in economic growth as several of the tailwinds that boosted its recovery in recent years fade away. Nonetheless, the expected slowdown seems to have been sidestepped and the Spanish economy is now showing strong signs of resilience if not even outright higher growth. The FocusEconomics Consensus Forecast for this year has been revised up 0.4 percentage points since the start of the year as our analysts have been gradually raising their projections, both annually and quarterly. The Spanish Ministry of Economy also recently stated that, according to their own projections, growth in Q2 is expected to surpass the 0.8% recorded in Q1.
All in all, momentum in the economy seems to be picking up despite the deceleration in private consumption growth, which is to be expected considering higher inflation and energy prices and only moderate wage growth. This is particularly true in investment, as a relatively more benign political backdrop and a strengthening housing sector both benefit an acceleration in capital expenditure and exports, as global demand, particularly among emerging markets, is on the rise.
Despite the positive news, some might point out that the unemployment rate is still high, while the average monthly salary is only EUR 1400 per month. Nonetheless, the gains made in reducing unemployment in recent years have been highly significant and have proved a boon to households in the face of mediocre wages. Coupled with negative changes in consumer prices during the 2014-2016 period, Spaniards have managed to pull their weight remarkably well. Nonetheless, still-low financing costs and forecasts of a further improvement in the jobs market will see disposable income for 2017 coming in at a faster clip than last year (disposable income, which FocusEconomics uses instead of average salary, allows for better comparisons across countries and is thus our preferred indicator), while other sectors have started the year with a stronger performance than in 2016. All in all, while the unemployment and average wage figures by themselves don't look great, one only has to look at the trend and the "Spanish inertia" to see that these are clear signs of an improving economy.
FocusEconomics Consensus Forecast panelists have revised their projections upwards several times this year as the economy continues to perform better than expected, and now project that GDP will expand 2.7% in 2017, which is unchanged from last month's forecast and up 0.4 percentage points from January's projection. In 2018, panelists expect the economy to expand 2.2%.
---
Sample Report
5-year economic forecasts on 30+ economic indicators for 127 countries & 33 commodities.